John Roe, Tom Cousins and Ronan McCarthy all advanced to the quarter-finals of the ultimatepool.tv Professional Cup after winning groups during the opening televised day of the event.
Former World Champion Roe got his new 2022 professional season off to a great start after a relatively disappointing few months on the Ultimate Pool circuit.
Having won a preliminary round match yesterday against former European Champion Oly Bale to make the main draw, Roe managed two break clearances and a reverse clearance as he eliminated number 11 seed Greg Batten 6-5 in round one.
Waiting for Roe in the Group A final was professional number one Shane Thompson, who came off the back of a remarkable 2021 campaign that saw him scoop three Pro Series event titles. Thompson had earlier kicked the event off with a 7-3 victory over former World Masters winner Neil Raybone.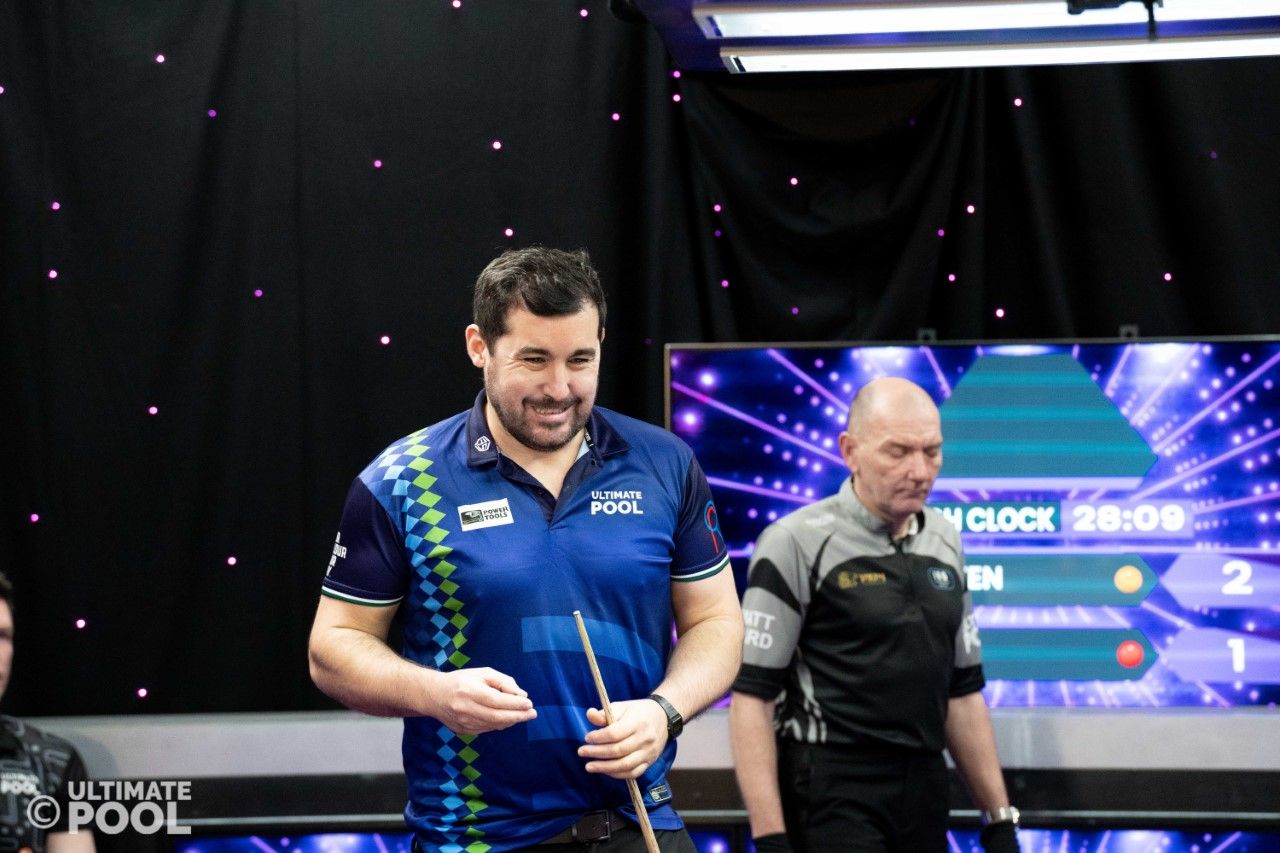 Roe started the final in fantastic fashion, racing to a 5-0 lead, although Thompson clawed his way back, later getting to within one at 6-5. However, Roe kept his cool and was able to get over the line in frame 12 for a mini-upset 7-5 success.
The basis of Roe's group triumph was his consistent break – 10 out of his 12 breaks were successful, five of them would be break clearances.
Another World Champion progressing to the last eight was Welshman Cousins, who will meet Roe on Wednesday evening, after he dropped just three frames in two matches.
The back-to-back world title winner in 2013 and 2014 – the champion that succeeded Roe – appeared to be back towards his best in what is his Ultimate Pool professional event debut.
Cousins lost the first frame in his opening round match against seed Jimmy Croxton but rattled off seven consecutive frames to make a statement with a 7-1 win.
He returned later that afternoon to deny 1998 World Champion Carl Morris, who had previously ended the hopes of four-time world women's champion Emma Cunningham 7-2. Cousins chalked up another three break clearances – just like he did against Croxton – in a 7-2 victory. Like Roe, Cousins broke very well in the group, successfully and legally making a ball off 7 of his 8 breaks.
During the evening session, the experienced Northern Irishman McCarthy – who was also making his Ultimate Pool professional debut – produced some vintage play to stay on course for another major trophy.
The 12-time national champion relinquished just two frames in yesterday's preliminary round and started today by whitewashing fellow countryman, pairs partner and UP professional ranked number three Declan Brennan 7-0 in an eyebrow-raising result.
The next opponent for 'The Babe' was Ultimate Pool Masters finalist Simon Fitzsimmons who had earlier ousted the number 16 seed Dylan Leary 6-5.
In a group final where both were frustrated with their break-offs, McCarthy went 4-1 ahead but was less comfortable later on as Fitzsimmons got to within one. However, the popular Ulsterman - who's longevity in 8-ball is perhaps unrivalled – finished strong, chalking up the final three frames to seal a 7-3 win and a place in the second quarter-final on Wednesday night. McCarthy has lost just five frames in three matches, so far.
Action returns on Tuesday morning from 1100GMT on BT Sport in the UK and ultimatepool.tv everywhere else.
Group 4 – Tuesday 28th December from 1100GMT
Jake McCartney (9) v Arfan Dad
Shaun Chipperfield (7) v Brian Halcrow
Followed by Winner v Winner
Group 5 – Tuesday 28th December from 1400GMT
Gareth Potts (4) v Jack Whelan
Scott Gillespie (12) v Hiten Patel
Followed by Winner v Winner
Group 6 – Tuesday 28th December from 1900GMT
Aaron Davies (13) v Rob Wharne
Dom Cooney (8) v Karl Sutton
Followed by Winner v Winner