Shaun Chipperfield & Karl Sutton claimed their maiden Ultimate Pool titles after winning the inaugural Eative Pairs Cup in dramatic circumstances.
The East Anglian duo were the competition's opening group winners way back at the beginning of September with the event's quickest 6-reds shootout time, and they finished what they started, lifting the silverware by virtue of another successful and memorable shootout effort in the final.
A total of 64 teams featured in this unique event, and after 120 matches across 20 weeks, only four sides were invited to Finals Night at the Players Pool & Snooker Lounge in Newcastle-under-Lyme.
2016 European Champion Sutton and 2016 World Champion Chipperfield (who defeated Sutton in that particular title match) began the night by eliminating the surprise package of the tournament Andy Appleton & Michael Tomlinson in the first semi-final.
They took the opening set 3-1 to quieten the army of West Yorkshire fans that travelled to support 'Team Dog', and remained relatively comfortable throughout, sealing a 2-0 straight sets victory after a 4-1 success in the second.
Next on the baize was a blockbuster between pre-tournament favourites Michael Hill & Phil Harrison and the intergenerational de facto 'Team Northern Ireland' consisting of Declan Brennan & Ronan McCarthy.
In a low-scoring but classy encounter, both teams received half-a-point each after the first set was drawn 1-1. Hill & Harrison – with 12 world championship final appearances between them – took the first scotch frame in set two, but a fantastic break clearance from Brennan, followed by McCarthy capitalising from a Hill error in frame 3 would be enough to see them through to the final.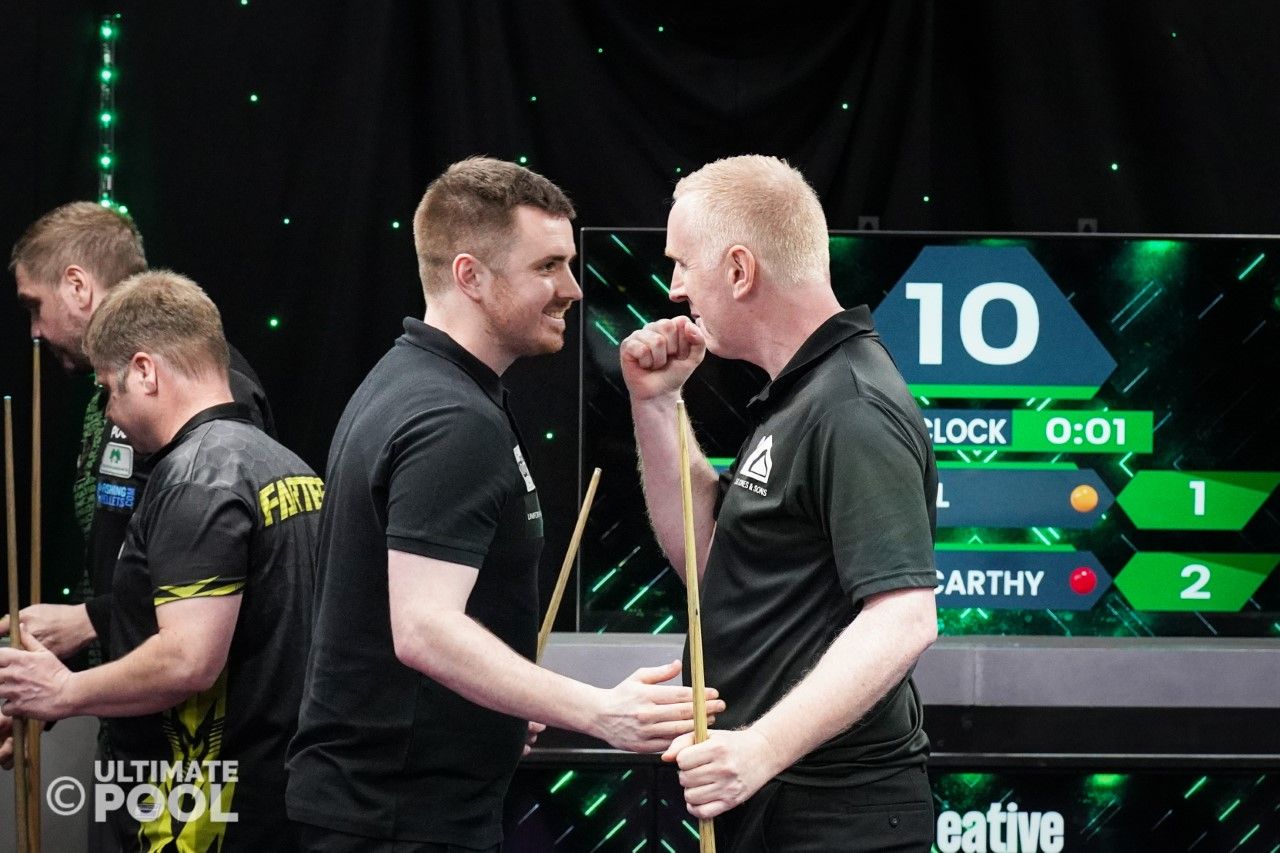 All four semi-final sides had struggled somewhat with the break, but there were few such problems in the high-quality final.
Chipperfield & Sutton emphatically won the first set 4-0, recording a scotch doubles break clearance in frame one, a Sutton break clearance in frame three and a scotch doubles reverse break clearance in frame four.
However, the Northern Irishmen responded with a scotch doubles break clearance of their own and a McCarthy dish on their way to chalking up set two, 3-1.
That meant the major TV title and £12,000 first prize would need to be decided by a 6-reds shootout. Having been put into break first, Chipperfield & Sutton registered a credible time of 25.97 seconds – a target about par for the course.
Both facing their first competitive shootout, Brennan & McCarthy got their run off to an ideal start, but a missed long red from the latter put the squeeze on. They pulled back some time towards the end, but Brennan had to instinctively strike the last red down the rail, which would rattle in the jaws and see their opponents' crowned champions. An unofficial check seemed to suggest that if the red had dropped, it would have just been in time.
Monday night Ultimate Pool action returns next week (Monday 7th February) with the opening group from the second edition of the Champions League. The full draw will be published this week.